Here are some recent paintings I've done for my watercolor class. I received the highest marks on all of them, and even had a few of them on display for a while, but seeing them on my computer makes me so upset! So much is lost when a painting is photographed and edited for the web. Before I stick 'em in my portfolio, I'll be sure to photograph them during a brighter time of the day. BUT! Until then, here's what I've been up to lately.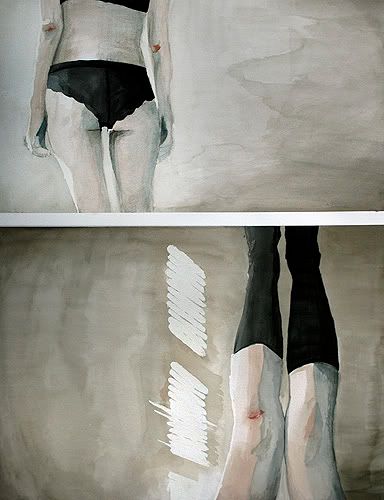 Click to enlarge.
For a diptych assignment, I juxtaposed two photographs I'd taken, and decided to paint a light study. I don't consider myself an impressionist; I prefer painting objects rather than just light. However, because watercolor is such a transparent media, I do enjoy giving a lot of attention to light and the way it plays off of surfaces and people. I was particularly upset with the way this photograph came out, because the colors are uneven (both images in real life have an identical color palette).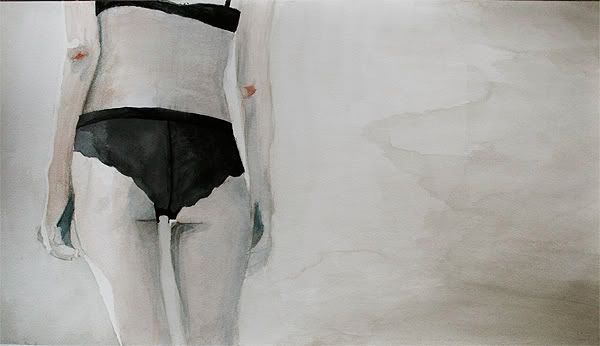 Closeup
At the moment, I'll only offer a preview of this series, as the photos were just TOO dark. A few weeks ago, I had to paint three paintings (simultaneously) in a series. For this particular one, I chose my father's old football helmet (circa the turn of the 20th century). Although these paintings were composed using a camera, I was able to reference the actual subject as I worked, which helped tremendously when I decided to bring in non-local colors and textures.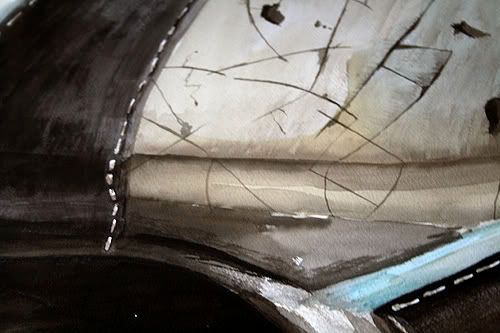 Closeup of my favorite from the series.
For my final project, which I've just proposed today, I'm doing a painting (scaled 90inx22in) in the style of an ancient Japanese ink painting. The Japanese are known for pioneering a method of painting perspective, known as "atmospheric perspective." This particular style creates depth by employing washed out colors and blurred objects in the background, with more detail and contrast in the foreground. I've also written a short haiku in Japanese to match with it. I'm still working on placement of the text and composition, so any suggestions and criticisms are welcome!

Click to enlarge.
雪の中
で狐、あいつ
嘘作る
fox in the snow, that rascal tells lies
Haiku is also a work in progress, but this is draft and the gist of the painting